To attest to my true Vintage nerdiness, I have read both Emily Post and Amy Vanderbilt's book on Etiquette. The latter states …
I prefer even the briefest little thank-you note to a laconic "Thank you for "… scribbled on a visiting card… A little more human, something that indicates a little more thoughtfulness, is a note, handwritten if your handwriting is legible, typed if it is not, but in any case graceful and friendly:
Dear Readers, I must attest that good handwriting is not one of my stronger talents. Years of computer coding and mouse clicking have weakened my delicate hands, and now my handwriting suffers. However, I do believe that practice makes perfect and it has certainly helped in my case.
My Top 5 Tips for a Successful Thank You Note:
Use good Stationery –  The card itself should be inviting. Something custom (Try ETSY ) if your budget allows or more budget friendly options are available from Target / Michaels / HobbyCraft / Hobby Lobby / Local Craft Store  if you're just starting out. If you're crafty, then why not make your own .
Go to a distraction free zone. This is not the time to multitask. Turn the Podcast or YouTube Tutorial / Insert other Distraction here –  OFF, put the Do Not Disturb on your Phone ON
Do not be in a rush to express the sentiment. Otherwise, your writing will almost certainly convey that message.
If there's something special that resonates about the piece, include that, but don't falsify an account – a simple "Thank you" will do if you've nothing special to remark on
If you feel that your handwriting will not pass the mark, Type the note or perhaps use some preprinted cards, add a closing remark and sign your name. If in doubt use KISS (Keep It Simple Silly)
Here are some of the Designs from Shops that caught my eye on Etsy !
CraftyCowDesigns based in the United Kingdom has some very fun Floral Designs. Owner Kate Shepard has been on ETSY since 2013 and does specialises in Personalised Prints.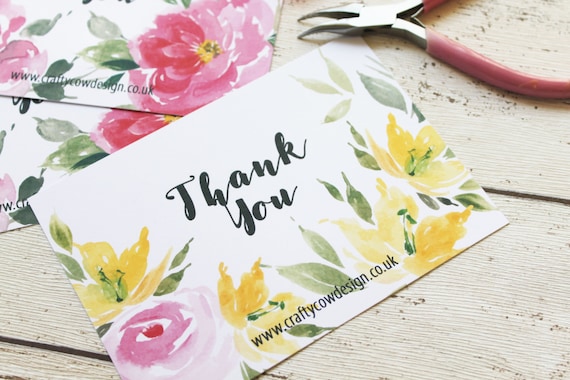 The Brit in me simply adored this little sentiment – "Much Obliged" ! I don't think I need to say anymore. It's simple and effective with a bit of whimsy. You can check out other Hudson Designs here .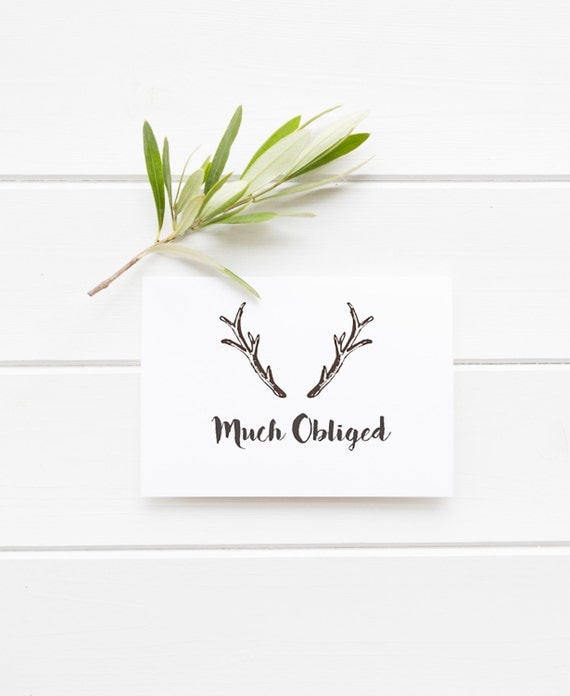 Here's an Idea, why not use a printable to create your own card.  The girls at PineappleStDesigns   specialise in Wedding Invitations but this would make a cute card front !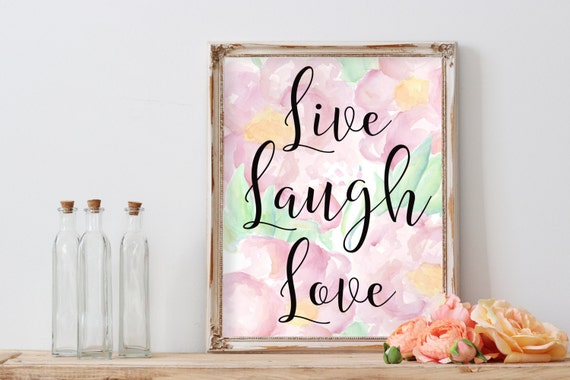 Every Vintage Flicker order gets a handwritten "THANK YOU" note. Why? Well because, I certainly want to thank them for choosing my little shop and because… well it's something I enjoy doing and , who doesn't enjoy getting a personalised note ?!
So do you like sending or receiving Thank You notes ?
Do you have any other tips or suggestions for creating great Thank You cards ?