I often times like to think that things just happen for a reason. Take for instance when I saw this lovely bowl at a charity shop in London. I picked it up, looked at it and thought… hmmm, where am I going to fit this ? I decided to leave it and walk around the other shops for a bit. But, as I started the walk back to my car, my legs took me elsewhere. Back to the shop I went to pick up this lovely piece.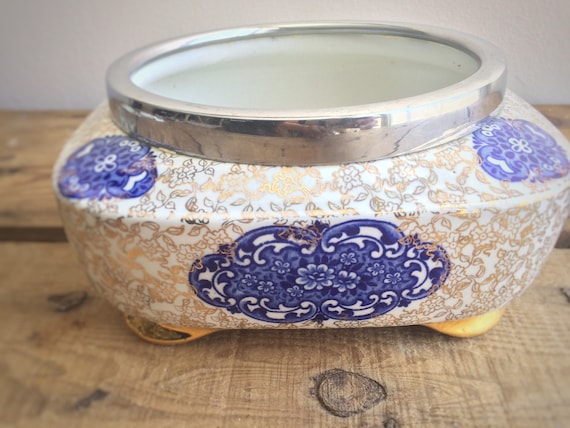 I was drawn to it, and it had to be mine. I have a soft spot / fondness for blue and white china. You may already know that I'm collecting Liberty Blue china for my daughter. I also have an partially complete collection of Churchill Blue Willow. But these are all stories for another blog post !
A quick google search helped me to identify the maker and pattern as James Kent "Golden Osaka". There's a bit of an oriental feel to these golden pieces. The cobalt blue is a striking part of the design. After a little research, I found out that this piece is described as either a "Fruit bowl" or a large rose bowl. If the latter, it would be missing the metal holder as seen in the photo below.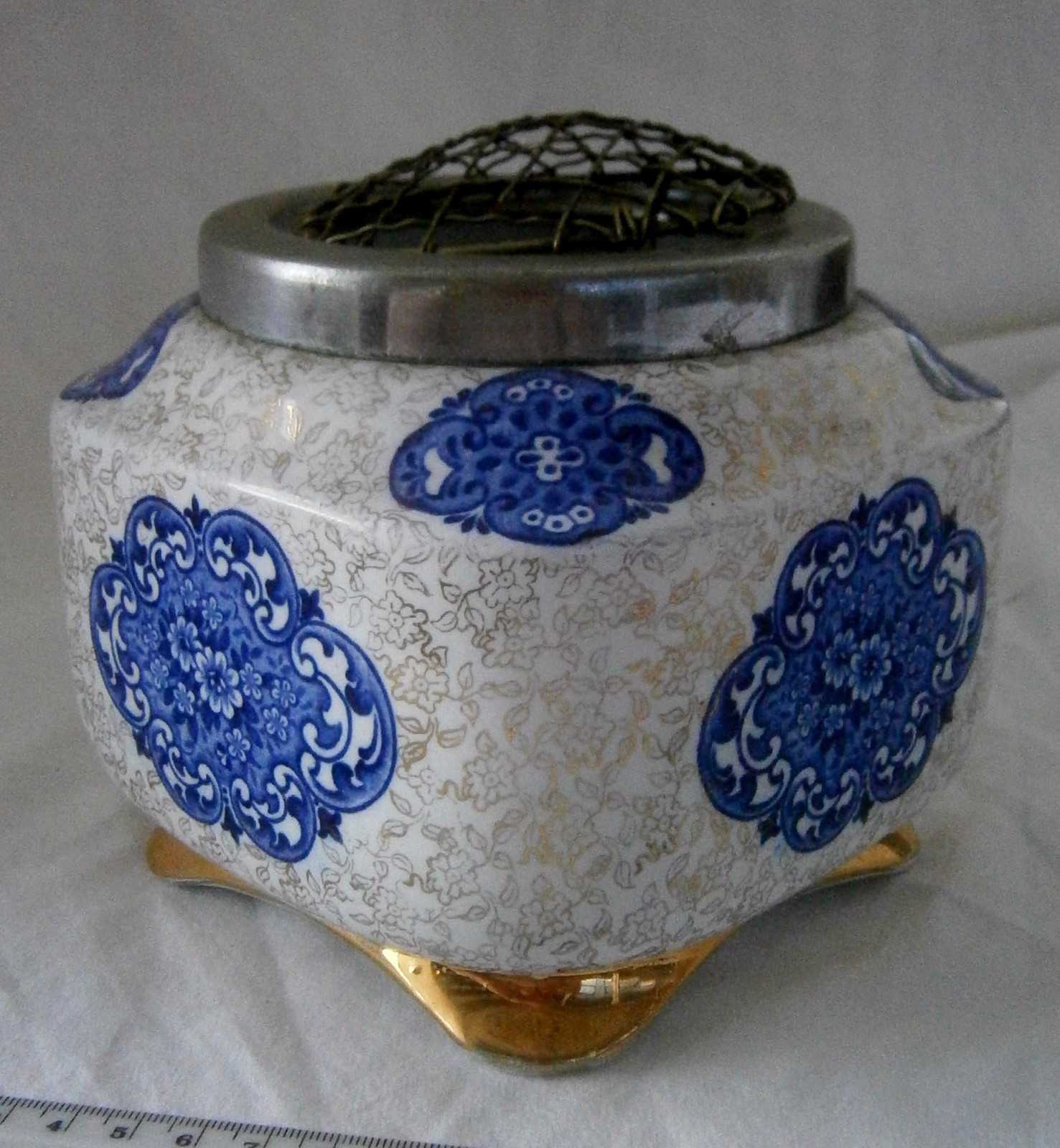 There didn't seem to be many pieces floating around the internet. James Kent a Stoke on Trent pottery, is best known for Old Foley china. According to thepotteries.org, James Kent became a limited company in 1913. Born in 1864 and died in 1953, James was succeeded by his son Philip Francis Kent. As with many potteries of the era it was merged and sold several times before the buildings were demolished in 2006, closing in 2008.
Since there appeared to be little information on Golden Osaka. I thought I would share a little bit of info, in case you stumble across this gorgeous pattern too. Please note that there is also an Osaka pattern, similar, but certainly not the same. All Golden Osaka pieces are marked 6363 Registered in England. I believe these pieces date somewhere between 1920s – 1940s. If you have any further information, please do get in touch.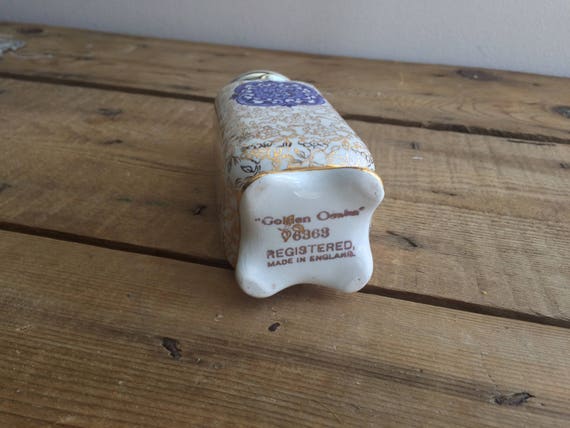 Golden Osaka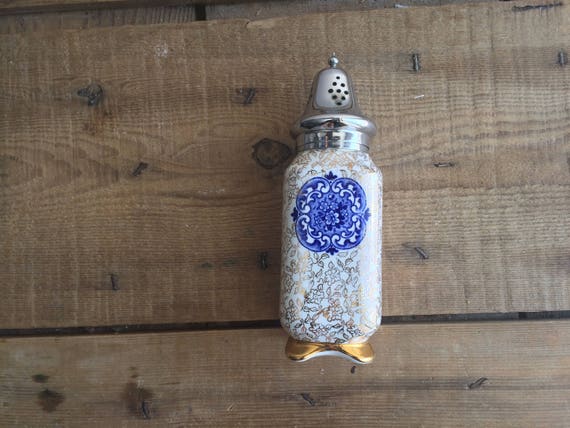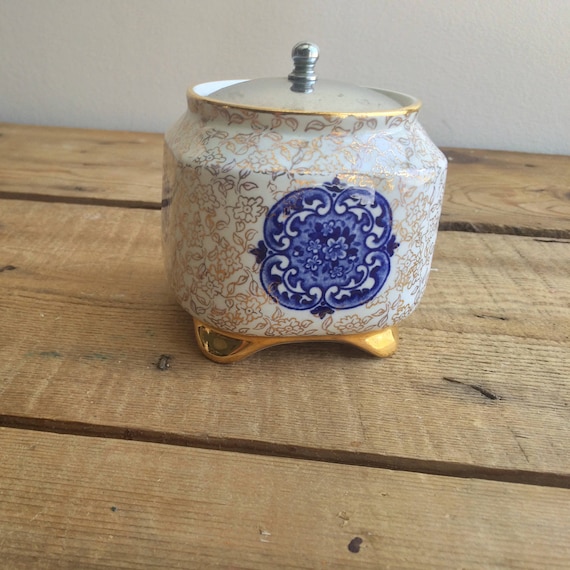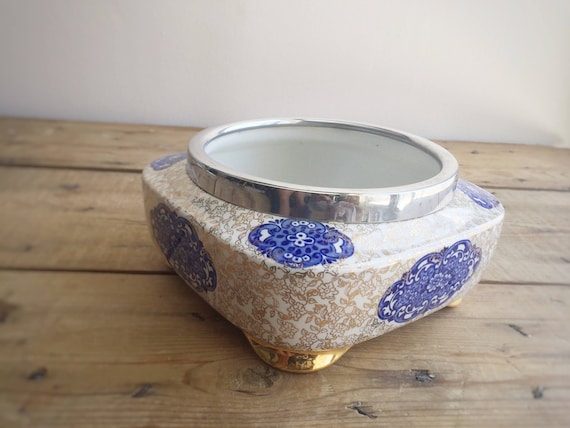 I have also seen the following pieces in the pattern:
biscuit barrel
two tiered cake stand
single cake stand
small rose / flower bowl with metal holder
demitasse cup and saucer
cake plate
bread and butter plates
Now do you see what I mean about things happening for a reason ? I randomly picked up one piece and now I had three. It was like they wanted to come back to Boston with me ! BTW, they have all arrived safely, and are now available in the shop.