With my daughter's growing interest in cooking, it was an easy decision to collect vintage cookbooks together. And then, as if by magic, we found our first book – known to many as the Betty Crocker Pie edition for it's cover art. And down the rabbit hole I went.
Betty Crocker cookbooks are at the top of the list when collecting mid century cookbooks. And why not ? They can be found relatively easy, are moderately priced and can often still be found in good vintage condition. I've also found that for the most part, these recipes are easy to follow and don't require a trip to a specialist shop for ingredients.
Top 5 Collectible Betty Crocker Cook books
Betty Crocker's Cook book "Red pie cover" $85 – $150
Betty Crocker's New Picture Cook book $50 – $65
Betty Crocker's Picture Cook Book 1950's $300 – $500 // 1960's $150 – $250
Betty Crocker's Cooky Book $45 – $75
Betty Crocker's New Boys & Girls Cook book $35 – $50
When collecting books, the value is determined by condition. This is tricky as often well loved cookbooks will have been will used and subject to high use in the kitchen. Except in the case of rare first editions, or limited print number, always opt for books in good condition. For bound editions, you should check the condition of the spine and for spiral bound, a quick flick to check for tears/ stains or missing pages. Often times, I find notes in these books from the previous owners, which I enjoy. Two things usually spring to mind then. This book was cherished AND I've got to try that recipe !
I have four of the five of the five books in my collection. Missing is the "Cooky Book". Although I think I've seen it once in my local thrift store. My cart was already full to the brim with blue and white china, so I passed. Silly me!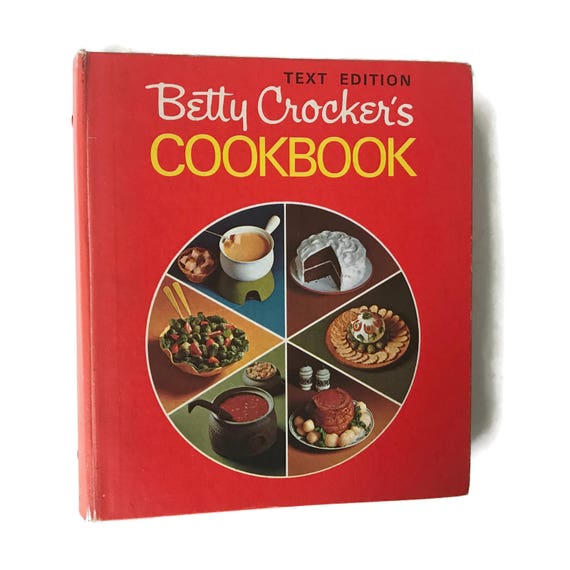 What I love about this collection is that it's one that you can actually put to use. Making fun family meals and treats. Some of these books also contain special occasion menus. A real bonus if your ask me.
It might be my tactile / analogue preference,  but I find vintage cookbooks a better source of inspiration more-so than Pinterest. The Kodachrome pictures and black and white illustrations are also a treat for the eye.
I love cookbooks that give you some insight into what life was like for the user of these mid century cook books. Many include tips for storing food basics as well as essential techniques. You know, like how to make a white sauce. (Something I didn't learn until much much later in life ).
This slideshow requires JavaScript.
So if you're looking for something to collect this Spring or Summer, I highly recommend collecting vintage cookbooks. If you're already collecting, leave me a comment with some of your favourites!
Further Reading