My thrifting obsession with candles means that I often am forced (not really) To look at all the vintage candle holders. Now, this little set presses all of my buttons.
It's vintage
It's simple
It fits a tapered candle
Just look at that tapered candle in it. Doesn't it look good ? In fact I would say that the candle should be honored to be in such an adorable set. Note the color candle… and my recent rant about GREEN. See.. I'm obsessed, no lie.
Now that I've talked it up so much, I'm not sure I want to part with it. Hmmm.. For now, this set of 5 graduated height ceramic angels candle holders are in the Shop. (To be continued…)
.
.
.
★ http://www.vintageflicker.com ★
—————————————————————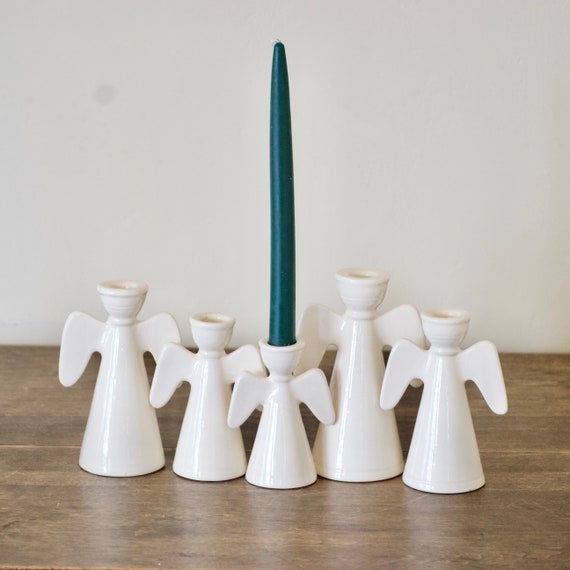 24.95 USD
5Pc Angel Candle holder set by Marcia Ceramics CA.
Click https://etsy.me/2RDFkkh to purchase now on Etsy!
Note: Vintage Flicker puts up new items every weekday. You can subscribe to our daily email which goes out at around 09h00 EST. Enter your email to SUBSCRIBE on the left hand side of the blog